USE TEMPLATES OR GROUND UP WEB DESIGN
There are many web design companies in Penang. Most web design companies are not capable of scaling your website from a simple corporate website into a web application. You might not understand the importance of web applications since most corporate companies will eventually upgrade a website into a web application. Nova Web is not an ordinary web company, we specialize in web design and web application.  We are keen to help you to scale your website no matter what industry you are in.
What we can do?
Nova is capable to do from A, B, C, D, E, F and G while other web design companies are only able to create websites and are capable do A, B, C, D and a bit of E. It will be a disadvantage when you engage a company that only focuses on UI.  All our web applications are developed in-house or locally made. Getting support will be really easy. Please be aware that many web design companies are using templates which limit the functionality of the website. We are not saying templates are not good, we are just saying that the templates engine has many limitations.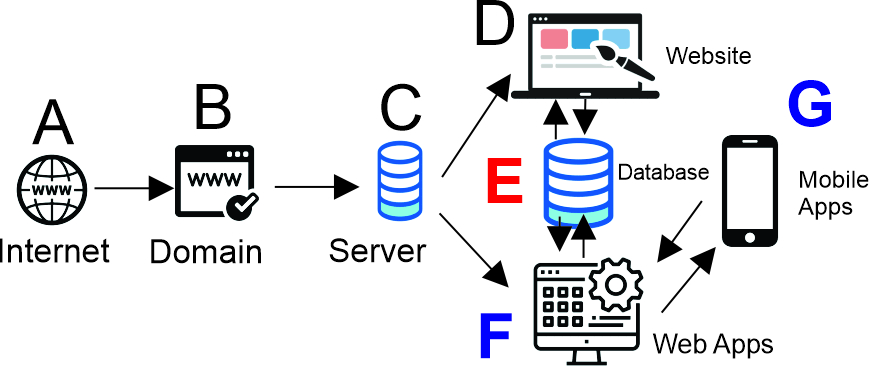 What are our stacks
HTML, CSS, Javascript, PHP, NodeJS, Express JS, Codeigniter, CakePHP, Laravel, MySQL.
Difference between a Template website and vs Ground Up website?
Template design website is always cheap. Damn cheap for initial development but to maintain it will be costly. Every plugin needs to be updated from time to time else being the risk of a security attack. The ground-up design will be more expensive since everything is built from scratch. But if you are looking for long-term upgrades and scalability, a ground-up design will be a better option. Other comparisons can be listed below
Another important note: Template design website uses plugins purchased from  3rd party. If you use 3rd party plugins, you will not be able to dictate what you need/want, you will have to be flexible and compromise with what the plugins provide. In simple terms, you can't request for detail customisation. What the plugins provide is what you get (Nothing Extra).
Conclusion:
Nova is able to provide template design as well as a ground-up design website. We are experts in both fields.